Accommodation
You have the option to either stay in student halls of residence at the University of Warwick or the University owned 3 star hotel located on campus at the Scarman building which is about a 10 minute walk from the conference venue.
Halls of Residence
Single En-suite Room Including Breakfast - £65.00 Per Night
On Campus 3 Star Hotel – Scarman Building
Single En-suite Room Including Breakfast - £75.00 Per Night
The full amount must be paid in advance to confirm the booking. If you need to cancel your reservation we will not be able to refund any accommodation fees after 5th July 2010.
Wifi/Internet Access on Campus
Delegates will be offered free wireless internet access within the public spaces of the campus, please be aware that the signal does vary from place to place. Please ask for an access code at the conference registration desk. Free cable internet access is available in the bedrooms in the Halls of Residence and at Scarman.
Alternative Accommodation
If you would prefer to stay in Hotel accommodation rather than Student Halls of Residence, you are free to make your own accommodation arrangements. There are many accommodation options in Coventry from B&Bs to budget and luxury hotels. For more information please visit www.visitcoventry.com. There is a local bus service that will take you from the centre of Coventry to the University if you do not have your own transport. Local bus information can be found by visiting www.travelcoventry.co.uk.
Dinner / Social Programme
Wednesday 1st September
New Members, Students and International Delegates Drinks Reception
This drinks reception is open to New Members, Students and International delegates and will provide you with an opportunity to meet the BERA Council from 18.30 to 19.00.
Wednesday 1st September
Main Conference Welcome Reception
An informal evening with pre dinner drinks reception is open to all delegates at no extra cost. Please indicate that you wish to attend on your registration form. This will take place from 19.00 to 19.30
Wednesday 1st September
Self Served Dinner
A self service dinner at the Rootes Restaurant is included in the fee for all delegates on Wednesday 1st September.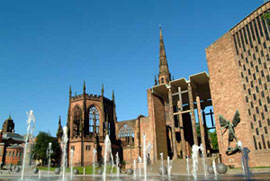 Thursday 2nd September
Conference Dinner
The Conference Dinner will take place at Coventry Cathedral (shown right). Coventry Cathedral has been a place of worship for over 900 years. The ruins of the 'old Cathedral' remain after the bombing during the Second World War. The new Cathedral was built after the destruction of the former and is a celebration of 20th century architecture.
A three course dinner will be provided with entertainment afterwards. Coaches will take delegates to and from the University to Coventry Cathedral. Tickets for the conference dinner cost £60.
Places will be allocated on a 'first come first served' basis. Tickets must be pre-booked and cannot be purchased at the conference.
Self Service Dinner on Campus – Residents and Non-Residents
If you do not wish to attend the conference dinner then you will be able to purchase dinner on campus whether you are a resident or not. Tickets for the dinner cost £16.25 and must be pre-booked at the time of registering.
Friday 3rd September
Self Service Dinner on Campus – Residents Only
A self service dinner in the Rootes Restaurant will be available for delegates staying on campus on Friday evening.
---
Things to do in the Area
The Royal Shakespeare Company will be performing at the Stratford Courtyard Theatre During the BERA Conference. The Stratford Courtyard Theatre is located in Stratford-upon-Avon which is approximately 17 miles from the University of Warwick.
Please find details of the performances below:
As You Like It
Wednesday 1st September 19.15
£8 - £43 (dependant on section seats are booked in)
A Winter's Tale
Thursday 2nd September 19.15
£8 - £43 (dependant on section seats are booked in)
Julius Caesar
Friday 3rd September 19.15
£8 - £43 (dependant on section seats are booked in)
To book tickets for any of the performances, please do so by going to http://www.rsc.org.uk/.
If you are attending any of the performances are interested in sharing a taxi with any other delegates that will be going, please advise the conference organisers at the registration desk and they can help to arrange a shared taxi.